Due to the current pandemic, our event coordinators have decided that although we will still have Santamobile this year, it will be modified to avoid in-person interaction, in order to protect the safety of our staff and the public.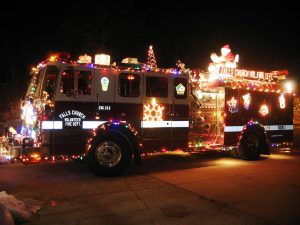 Update December 18: As a result of the cancelation on December 16 due to inclement weather, we have re-worked several of our routes to allow Santamobile to visit as many neighbors as possible. Please see below for our updated map and don't forget to follow us on Facebook for updates and nightly tracking information.
Santa Claus is coming to town!  Every night from December 15th through 23rd, Santamobile ventures out on the town from 6:30pm to 9:30pm.
Santa rides the Santamobile in neighborhoods in the City of Falls Church on December 15th – 19th.  If we have to skip a night due to weather, we'll try to come back one night between December 20th – 23rd. December 20th – 23rd are nights where we head out to Fairfax and Arlington Counties, assuming we don't have to make up any neighborhoods in Falls Church.
For safety's sake, we ask well-wishers to stay on the sidewalks. We do not encourage public gatherings and ask everyone to stay safe by taking simple precautions, such as physical distancing, wearing a mask, avoiding crowds, cleaning your hands, and coughing into a bent elbow or tissue.
As always, our "elves" will help with the decorating of the fire engine, but due to the pandemic they will not deliver candy canes or safety literature, nor will we respond to any private requests for drive-bys.
Using the map below, you can zoom in to your neighborhood, and then click to see what night Santamobile is scheduled for your neighborhood.
You will be able to use SantaTracker to track the whereabouts of the Santamobile; a link will be provided each night via our Facebook page.  Please check the SantaTracker at the beginning of the night to confirm what neighborhood we're visiting, as sometimes we have to change plans.
If you have any questions about the Santamobile please send our team an e-mail.